AMCO's Titan Cable Management rack (TCM) is a high density, open architecture cable management system that establishes pathways for large volume network cabling. Our data center cable management rack conveniently provides complete accessibility for cabling swaps and add-ons while also providing optimal heat dissipation. Our data center components allow your network hardware to run cooler and perform as intended. Below, you'll find more details about our data center cable management racks.
Certified Load Rating:
2,100 lbs.
Features:
Heights: 45U, 51U
Mounting Widths: 19", 23"
Depths: 6", 10", 16", 30"
Open architecture design promotes optimal airflow
TCM racks support large cable bundles with dedicated raceways
Large vent pattern in rack sides help heat dissipation
Assembles quickly for faster installation and set-up
Vented doors with dual handles for LH/RH access to equipment
Third rail option available for shallower equipment mounting into deeper racks
#12-24 spare hardware for 6″, 10″ and 16" depth racks, M6 square hardware for the 30" depth
Baffle kit option for directing cold intake air to the side of switches where it is exhausted out into the hot aisle
All of our Titan cable management racks are stocked in black and available in 11 standard colors
Custom branding available
2,100 lbs.
Durable powder coat finish
ROHS Compliant
ISO9001 Certified
10-Year Warranty
Designed and manufactured in the USA
Design your rack on our Configurator for a quote, 3-D model, and techincal specifications.
TCM Doors
Titan Cable Management doors have a 77% open vent pattern. Doors feature a dual handle design that allows either RH/LH access to your network equipment. All doors have swing handles with keyed locks.
Concealed hinges offer easy on/off release
Titan Cable Management Door
Cable Manager With Door
Constructed of .230" diameter steel wire, these vertical cable managers are available in 6", 10", 12", and 16" widths. Solid doors have dual hidden latch mechanisms that provide access to cabling from either side.
Wire cable managers have 2RU fingers for larger cable bundles
Ladder Brackets
Ladder brackets mount to the top of the TCM rack and support your overhead cable raceways.
Adjustable height and width hardware for your wire baskets, ladder rack and other overhead cable management systems
Either 6"-12" or 12"-24"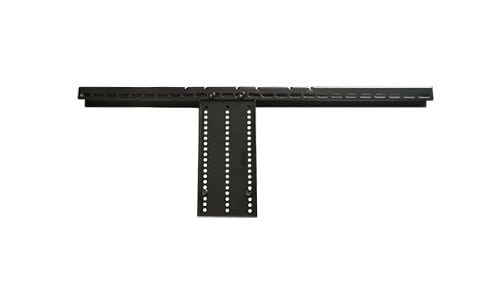 Horizontal Cable Management Panel
HCM Panels have a 2RU panel height (3.50″) and feature 10 ga. steel construction. Available in 4″ and 7″ depths.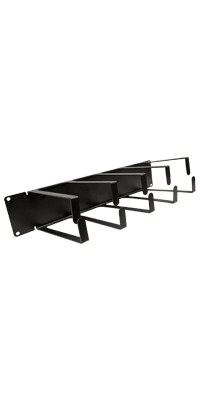 Third Rail
Third rails are available in 51RU and 45RU rack heights and provide additional depth location support for shallower equipment mounting in 30"deep racks.
Rails are M6 style
Set consists of mounting rails and side struts for front-to-rear equipment adjustments
Titan Cable Management Third Rail Kit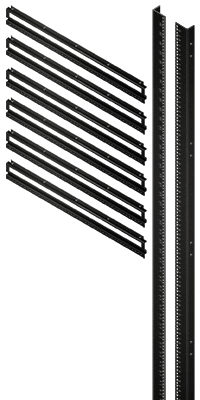 Titan Cable Management Third Rail (isolated)
End Cap
TCM end caps provide an additional layer of security between your cable management and outside access
Bolt down design prevents outside access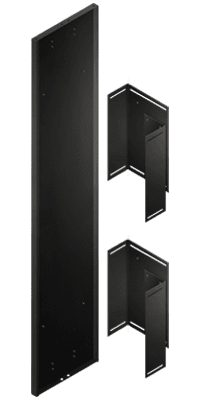 Shelves
Heavy duty shelves are 1.75″H (1RU), fit 19″ width panel openings, and have depths of 17″ up to 40″. They are available in solid or vented models and are load-rated to support up to 250 lbs. Shelves mount to the front and rear of the mounting channels.
UA Series shelves are light duty and mount to the front of the mounting channel. The shelves are 19″ wide, 18″ deep, and available in the following heights: 1RU, 2RU, 3RU, 4RU and 5RU.
Solid Heavy Duty Shelf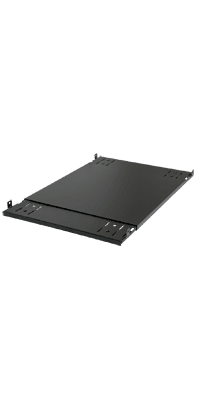 Vented Heavy Duty Shelf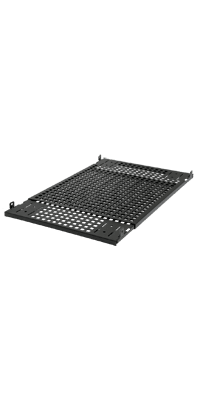 UA Series Light Duty Shelf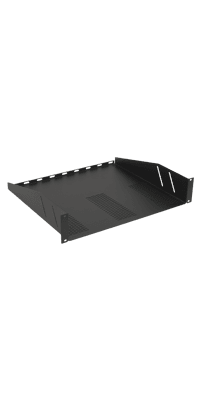 Blanking Panels
Blanking panels are available in solid or vented styles. Use them to fill in empty RU spaces in your rack or to help manage the air flow. Blanking panels are available in 1, 2, 3, 4 and 8RU panel heights and feature a durable powder coat finish. Formed blanking panels are aluminum and also available individually or in kits.
Solid Blanking Panels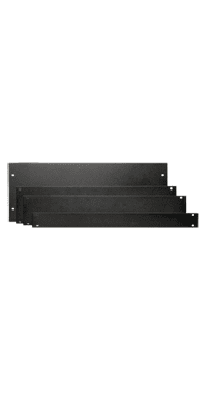 Vented Blanking Panels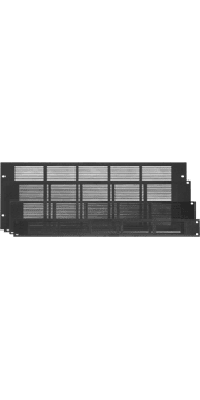 Formed Blanking Panels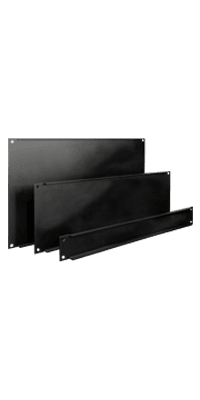 Formed Blanking Panel Kits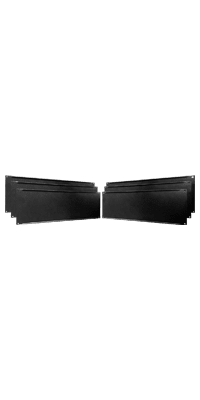 Hardware Kits
Each rack ships with 50 ea. Dzus M6 inserts and screws to make mounting hardware/components easy to install. Additional mounting hardware is available for equipment mounting.
Note: 50 piece kits available for HKDZ-25 and HK-1032-25. Replace 25 with 50 in part number. (i.e., HK-1032-25 becomes HK-1032-50)
T441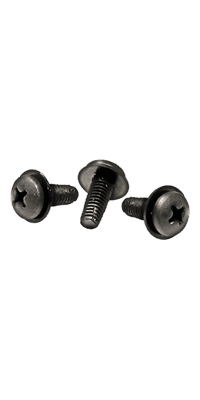 25 pieces, #10-32 x 1/2 black phillips pan head with washer
HK-1032-25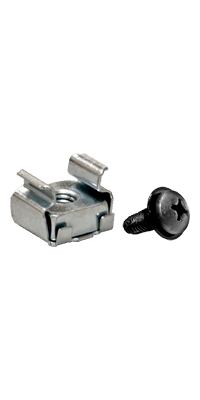 25 pieces, H801, #10-32 nut retainer
HK500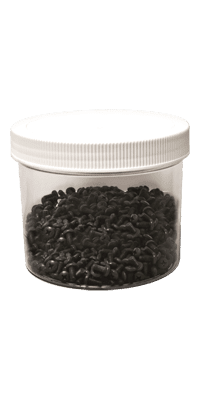 500 pieces, #10-32 x 1/2 black phillips pan head with washer
HKDZ-25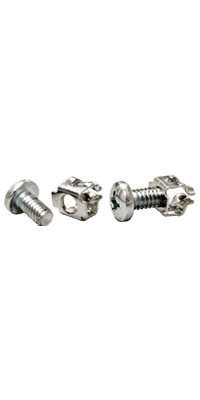 25 pieces, Dzus easy insert hardware kit