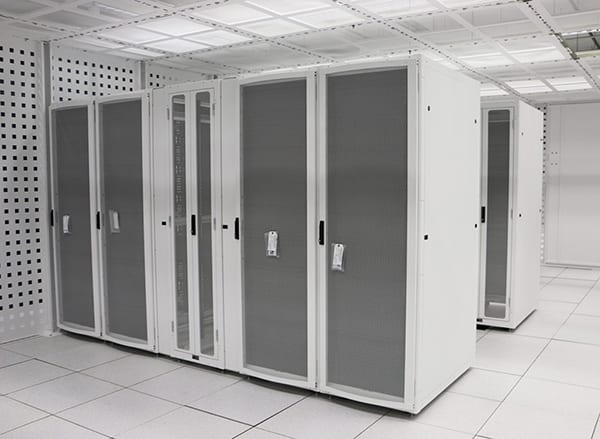 Whether you're operating with your own data center or you've purchased a colocation data center plan, there are many benefits of using quality server cabinets and racks. Dynamic server racks provide your business with peace of mind that can't be attained by stacking your servers in a relay rack or other system that is not secure.
With wireless devices accounting for over 63% of total IP traffic by 2021, high-quality data center and colocation server cabinets are essential for your everyday operation and security. Here are a few reasons why investing in quality server cabinets is ideal.
Keeps your servers organized.

It's important to maintain organization when it comes to your servers, not only for aesthetics but also for safety purposes. Organized servers help to prevent accidents both in colocation centers and your own data center that could lead to expensive equipment damage.

Ease of maintenance.

Nothing is more frustrating than trying to maintain your equipment and machines when they're in a disorganized mess. When you use server cabinets and racks, you can easily maintain the equipment of your machines. For instance, cabinets that allow you to move equipment in and out makes your servers easily accessible and easy to maintain.

Better security.

Organization isn't the only thing that a high-quality server cabinet or rack can offer. Quality server cabinets can also keep your servers safe and secure. This is especially important when you're using a colocation center. The top server cabinet systems are designed with panels and doors that lock to keep unauthorized people from accessing your equipment. You won't have to worry about unwanted personnel touching your data.

Offers customization.

Lower-quality cabinets and racking systems don't offer a lot of customization, which is why it's best to choose high-quality cabinets. Whether you're operating your own data center or using a colocation center, customizable server cabinets are advantageous. You can add cable management with ease, cover empty spaces with blanking panels, add tool less mounting of PDU's, and rest assured that your airflow management is under control.
In the market for high-quality data center and colocation server cabinets? AMCO Enclosures has you covered. As an ISO9001 registered company, AMCO Enclosures operates using trained technicians, calibrated equipment, testing systems, and in-process controls. For more information about our colocation server cabinets and other types of server racks, contact AMCO Enclosures today.