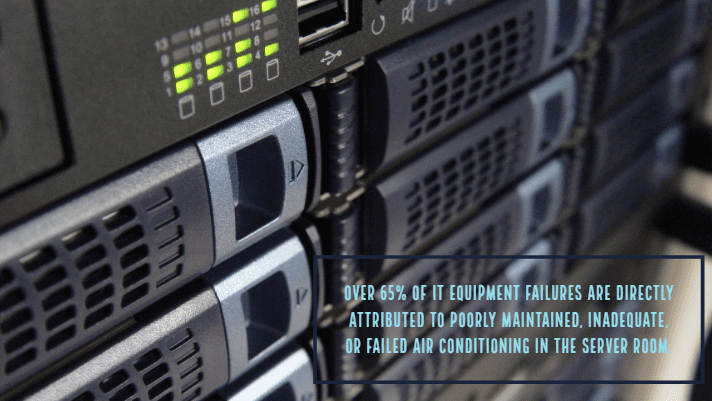 If you work in a data center, then you understand the importance of operating in the most efficient manner possible. Your time is valuable, so it pays to be certain that every piece of equipment you have is working at maximum capability. Too many people ignore the importance of using the right equipment and end up paying for it in the long run. But even if you acknowledge the importance of using the best equipment in your data center, you might not be sure whether your data center is doing all it's capable of. Here are a few important points to note that can help you maximize your data center's efficiency.


Why is temperature so important in data centers?
You probably know that if your servers are too hot, then they have to work much harder than necessary. In addition to using more energy to run, a hot server rack also runs the risk of malfunction and failure. Such equipment failures can be catastrophic to the function of the rest of your data center, leading to enormous compounding problems in the form of lost data, time, and employee productivity. Thankfully this can be avoided by using some of the latest forms of cold aisle containment and temperature control.
It helps to educate yourself about some of the more common issues that data centers face. When you stay up-to-date on industry trends and changes in the latest equipment, then you'll be a much more informed consumer when it comes time to make purchasing decisions for your data center. For example, being aware of the most prominent technical problems that lead to IT equipment failure can allow you to make better choices that will minimize downtime and frustration. Since over 65% of IT equipment failures are directly attributed to poorly maintained, inadequate, or failed air conditioning in the server room, that means temperature might play a bigger part in your center's overall efficiency than you first realized. When you consider this enormous figure, then the importance of using the right cold aisle containment system becomes apparent. If you are using an old or outdated equipment, then you significantly raise the likelihood of equipment failures, which in turn lead to lots of lost productivity, time, and money. All of this can be avoided by making the right decisions regarding your cold aisle containment.


What separates a good supplier from a great supplier for cold aisle containment?
When you are ready to find a supplier for your equipment, there are a few central factors to keep at the forefront of your mind.
One of the most critical things to consider when looking for a supplier is what kind of engineering support is available to make sure the correct and right-sized product is specified. It is also important to purchase from a company that offers a diverse line of products so they meet your exact requirements.
Of course, customer service should be considered one of the more important areas a supplier should excel in. All too often, people who work in data centers overlook the communication that takes place between their own business and their supplier. Ideally, you should be looking to work with suppliers who value your patronage and want to offer their services to you for many years to come. This provides less friction when it comes time to order, and it also ensures that you are never without the technical help and assistance that you need to thrive in the industry.