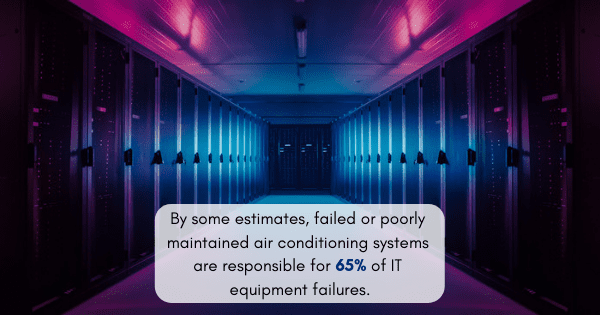 In today's world, businesses are always on the lookout for better ways to keep their data safe. For most, one server cabinet is not enough, they have entire rooms devoted to keeping their servers secure and safe. By some estimates, failed or poorly maintained air conditioning systems are responsible for 65% of IT equipment failures. This is one of the reasons that at least 80% of companies with data centers are investigating using hot and/or cold containment aisles to keep their servers working properly. If your company's server room has not been updated in seven years or more, it is time, as there are better and more eco-friendly technologies available.
Hot and cold containment aisles can be cost-effective ways to keep data safe. It has been estimated that the costs to use air conditioning to cool a room filled with server racks can stretch any budget. Experts agree that the idea of straight of containment is a better option but which is better? Are hot aisle containment systems or are cold aisle containment solutions the way to go?
In a cold containment system, the server cabinets are isolated inside of a smaller walled in space, Doors on either end allow people to enter and leave. A ceiling is constructed above the aisle. A hot containment aisle is very similar but the ceiling in hot aisles uses ducts to bring the hot air out of the area. There are a lot of situations where only one is an option.
There are pros and cons to each option. It is important to understand all of these before making the decision to put one in over the other.
Starting with cold aisle containment, here are some of the benefits:
It is an easier system to install. There is no need to put in venting to move the heat from server cabinets to the existing AC system.
The only real requirements are the doors that are placed at both ends of the aisle and the ceiling to cover the aisle.
These are much less expensive to install.
These are easier to put into a data center that is older,
These systems have more surface area. This means there are more "cold sinks" that are needed if there is a power failure and if the generator does not function properly.
There are disadvantages to this kind of system. Here are a few:
The rest of the data center room will be effectively turned into a hot containment aisle. The space around the cold containment aisle will get very hot.
The delta T will be lowered when the air coming out of the aisle is mixed with ambient air.
These can hurt the efficiency of the AC system.
These can prevent fire detection equipment from working properly.
Now let's take a look at hot aisle containment. There are benefits to these systems:
The rest of the room is cool.
Hot air from the containment aisle is pumped out through the AC system.
These are considered to be more effective at cooling.
Fire detection equipment is usually not impacted.
There are disadvantages to these systems as well:
They cost more to install.
They may require the addition of ductwork to move hot air to the AC system.
The area inside the aisle can be very hot.
Most of the time, businesses fare better when they use a hot aisle containment system. The problem is that is not a "hard and fast" rule. There are times when the cold option works better. This decision has to be based on what a company's specific needs are to keep its server cabinets at the right temperature. Before you take the leap to install either a cold containment aisle system or a hot containment aisle system, it is important to look at the current configuration of your server room.
In addition to keeping server cabinets in their own space, many companies are also turning to the cloud. About one-quarter of respondents to surveys say the main reason they want to make this switch is for storage. About 40% of companies are over capacity already with their data centers so this move can also be a great option.
At the end of the day, you have to know what you need to decide what you want.