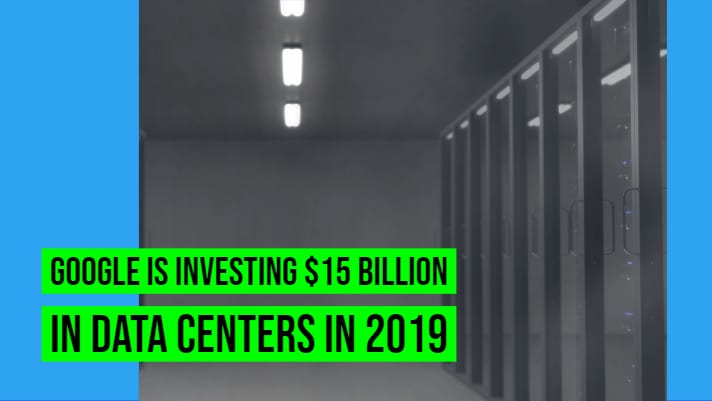 In this Internet addicted world, Google reigns king. As the world's most favorite search engine, the massive company (understandably) needs to have some serious computing power at its disposal. It already owns 15 data centers across the globe (eight alone in the U.S.) and plans to expand that number considerably within the next few years.
By considerably, we mean considerably: the search engine giant will be investing approximately $13 billion in seven new U.S. centers, with construction to begin in 2019.
"Our new data center investments, in particular, will enhance our ability to provide the fastest and most reliable services for all our users and customers," said Sundar Pichai, CEO of Google. "As part of our commitment to our 100% renewable energy purchasing, we're also making significant renewable energy investments in the U.S. as we grow. Our data centers make a significant economic contribution to local communities, as do the associated $5 billion in energy investments that our energy purchasing supports."
In addition to adding an incomprehensible number of server racks, network racks, and data racks to their cloud computing arsenal, Google will be offering a staggering 10,000 new jobs to American workers; the new centers and offices are expected to be based in Ohio, Nevada, Texas, Nebraska, Virginia, Oklahoma, and South Carolina, stimulating microeconomies all across the country (although it should be noted that Pichai himself gave no details on the new locations). Since data centers are considered out of date after seven years, Google will never have to worry about falling behind.
Google has been at the forefront of technological innovation and a pioneer of data center infrastructure for years. Most recently, they announced a shift from traditional cooling systems (such as hot aisle containment and cold aisle containment) toward artificial intelligence. They designed their own machine learning AI to control cooling processes more effectively; the change is expected to reduce Google's energy consumption by an estimated 40%.
Hot aisle containment systems may be a thing of the past for the corporation, but one thing is for sure: Google will continue to be an innovator in the field of data center infrastructure and the limits it can be pushed to.