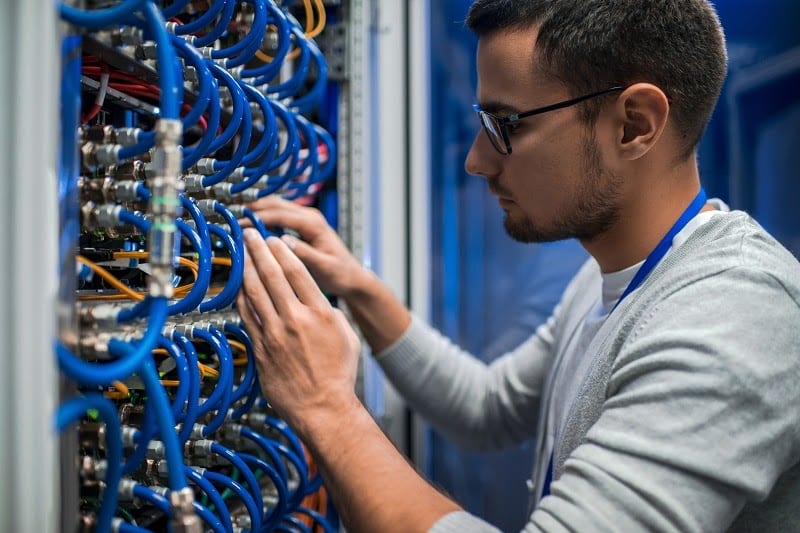 Proper airflow management is vital to the success of your data center. In fact, more than 65% of IT equipment failures are directly caused by poorly maintained, inadequate, or failed air conditioning in the server room. Your hardware and cables need to be able to breathe in order to function properly without overheating.
To help you keep your data center running efficiently and effectively, here are a few airflow management tips you can use to prevent future failures from eating into your business:
Plan out your rack design.

The last thing you want in your data center is a set of data racks that have no specific orientation. But orienting your server racks from front to back or in the same direction as your IT rows isn't a good idea either. Instead, make sure that you're placing your racks in long hot-aisle/cold-aisle configurations. Your main CRACs ought to be placed at the outside perimeter unless using in row cooling.

Seriously consider cooling management.

Change is good, especially when that change improves the way you keep your data center cool. You don't want to run the risk of operating with higher costs and lowering your data center's capacity because of overheating. Installing blanking panels or ordering customizable cable management racks can do a lot not only for cooling but also for overall airflow.

Don't leave cabinet spaces empty.

When you leave cabinet spaces empty, the airflow balance becomes skewed. This can lead to a loss of cool air from your cold aisle because exhaust air gets recirculated. Keep your cabinet spaces full to ensure proper airflow and to reduce the risk of overcooling.

Regularly calibrate temperature and humidity sensors.

Temperature and humidity sensors that aren't properly calibrated can lead to ill-managed cooling units that work against each other rather than with each other. Regularly check your temperature and relative humidity sensors at least once every six months. Adjust or re-calibrate the sensors if necessary.

Keep your raised-floor openings sealed.

Many data center operators will seal their cable openings to make sure cool air stays where it needs to. But not every data center operator completely seals these openings and holes. Make sure that all holes and openings, including those under electrical gear, are fully sealed to prevent cold air from escaping into areas where it isn't needed.
It's important to maintain proper airflow to keep your cables in good working condition so your data center stays running efficiently. For proper airflow management, consider using AMCO Enclosures' Titan Cable Management Rack.
AMCO's TCM is a high-density and open architecture cable management system that allows large-volume network cabling and complete accessibility. It also has optimal heat dissipation so your network hardware can stay cool and perform as intended. For more information about the TCM and how to improve your data center's airflow management, contact AMCO Enclosures today.