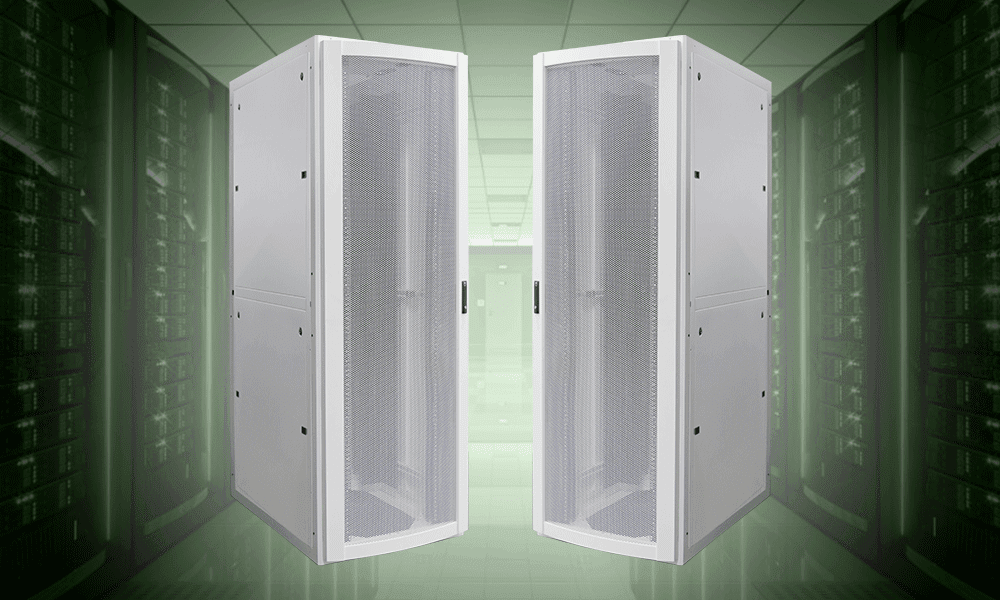 It is important when planning your data center build out that you are cost conscious with your initial spend, while also assessing the total cost of ownership. This is why choosing equipment that won't break the bank but will serve your future requirements is so important. The server racks and network cabinets you select are not an exception, and there are several options when choosing your IT racks. They range from low price, imported racks to standard prepackaged racks that come with standard features, and configurable racks.
Low-cost, imported server racks are typically found and purchased online with no personal interaction. These racks have a standard set of features and will have some availability in your region, and are almost always only available in black. Outside of the distributors that stock them, there is little to no technical support available. These racks may work fine for mounting a few pieces of gear in a room but they are not ideal if you are planning a large buildout. While walking through data centers over the last fifteen years, I have not seen many of these racks in the white space.
Standard, prepackaged racks are very similar to low-cost racks. They are offered with a standard set of features and many of them are imported. Generally, these IT racks have support locally and most have a sales force that is out working on new opportunities. Should issues arise with this product, you may be able to reach out and get local support from a distributor or from the company.  These racks are usually available in black, but in some instances, white is also available. One of the main downsides to these racks is that you cannot change what comes with the rack. If you want a different top panel, that is not an option. If you want French doors front and rear, that is not an option. We have heard data center engineers tell us that they requested the racks without side panels and were told that they can discard the side panels once they receive their cabinet. For very large build-outs some changes may be available, but the lead time is usually months out because of transit and because making changes is not party of their business model.
Benefits of Choosing Configurable Racks
One of the many benefits of configurable server racks and network cabinets is that they give the customer the ability to select exactly what they want from a menu of options. Configurable racks come in a variety of sizes just like low cost racks and standard prepackaged racks, but there are usually more sizes to choose from. You also have the ability to build the rack exactly the way you want as long as you stay within the standard offering. There will typically be several standard options for doors, top panels, casters, side panels, cable management, PDU mounting and colors. You literally have over one million configurations available to you. If you do not want doors you do not need to order them. If you want two side panels on the cabinet at the end of the row on the right side and a left hand side panel on the rest of the cabinets in the row, that is available, and is an ideal way to prevent air mixing between cabinets and to lower the cost of your rack.  If you do not want black or white racks there are other standard colors to choose from.
Another benefit of configurable server racks and network cabinets is that you pay for exactly what you are buying. Each item you choose has a specific cost and that cost goes into your configuration. You are not burdened with paying for a standard bundle which includes items you do not need or want.
Cost Benefit
People may think that by having all of these options available the cost will be excessive; however, if the correct processes are in place this is not the case. Although there may not be finished goods in place, companies that manufacture configurable racks stock a lot of in process inventory. An example of this would be the main channels that make a 48RU rack. Main channels are cut and formed and ready to be welded together with the top and the base. They only move to welding once a PO is placed because until the order is placed you do not know if those main channels will be used on a 24 inch wide cabinet, a 29 inch wide cabinet or a 32 inch wide cabinet. You also do not know if the depth of the cabinet will be 42, 45 or 48 inches until the PO comes in. All of the components are built in volume waiting for the purchase orders to come in.  Once the PO is received, the racks and accessories go through welding, grinding, painting and assembly.
Time Benefit
The other thought some have regarding racks that are configured is that the lead times are very long. Again, if there are sound processes in place as well as component inventory, lead times can be less than two weeks. With all of the components complete, the only operations left are not set-up intensive so they are completed very quickly. Painting and assembly can be done in a day or two. If you are trying to deliver a configured server rack and do not have the component inventory or the correct processes in place, lead times will be extremely long. When you look at a server rack you may just see a frame, doors, top panel and side panels but there are many components that go into building each of these, so it is important to work with a company that specializes in building racks this way.
Quality Benefit
Another benefit of purchasing a data center rack that has been configured is that you are buying from a company that is usually manufacturing in the same country you are in. Most of us like to support local businesses, and we often feel that we are getting a better, higher quality product when we do this. It is also easy to contact the factory when there is an issue or a question regarding the product. If there are questions about your configuration or which accessory would best suit your requirement, sales and engineering support is readily available. Expediting a delivery or pushing one out is very difficult if the product has to be shipped on a boat, but it is very easy to do when it only has to be shipped by truck. Companies that offer configurable racks may also let you come into their factory to see how the product is built and tour their showroom so that you can see all of the available options prior to placing a purchase order.
There are certainly opportunities to use each of the three different rack options, but once you understand the differences between the three and understand that cost and lead times are not the issues you may have thought they were, configurable racks are certainly a solution you should strongly consider.
Learn More
Interested in learning more about the benefits of configurable server racks and data cabinets? Contact the team at AMCO Enclosures for industry insights regarding server racks.